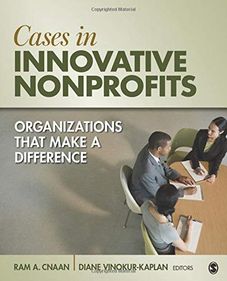 Schröer, Andreas (2015):
Dialogue in the Dark.
In: Ram A. Cnaan, Diane Vinokur-Kaplan (Hg.): Cases in Innovative Nonprofits: Organizations that make a difference. Sage Publications. Thousand Oaks: Sage, 141-154.
Zusammenfassung des Beitrages
Become an innovator in the nonprofit world   Student friendly and readable, Cases in Innovative Nonprofits provides readers with current comparative case studies of innovative nonprofit organizations that are meeting the needs of humanity in both the U.S. and abroad. Edited by well-known scholars, Ram A. Cnaan and Diane Vinokur-Kaplan, this text provides inspiring examples of social entrepreneurs who have instituted new services to meet the needs of both new and long standing social problems. Each case features either an unidentified need and its successful response, or an existing need that was tackled in a unique and innovative manner.   The text is purposefully organized into four parts: Part 1: Two conceptual chapters give the reader an understanding of what a nonprofit social innovation is and tools to analyze various social innovations in this volume and elsewhere. Part 2: Ten cases reveal the innovative formation of new nonprofit organizations. Part 3: Three cases emphasize innovation through collaboration. Part 4: Five cases demonstrate innovations taking place within an existing nonprofit organization.    By using a simple, identical format for each case, this text facilitates student learning through comparative review, providing a deeper understanding about the complexity and steps required to achieve nonprofit social innovation.