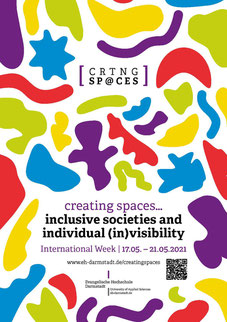 Registration opens March 15th and closes May 1st 2021. Find out more about the newest contributions here.
Get your free ticket to the International Week 2021! 
Creating spaces...
with [children] [disabled people] [elderly people] [marginalised groups] ...
for [humanity] [possibilities] [opportunities] [networking]...
This conference aims at creating spaces and opportunities for societal groups to become VISIBLE, be HEARD, and PARTICIPATE in a democratic society.
In these difficult times, with international travel restricted and many international exchange programmes and projects postponed or canceled, we would like to invite you to play an active role in our virtual international "creating spaces..." event.
The event offers students, teachers, practitioners and other interested persons an opportunity for intercultural learning in the fields of social work, social management, education and health sciences, even when travel is restricted.
Let's create spaces in inclusive societies. TOGETHER!
Prof. Dr. Michael Vilain
Vice-President for International Affairs
Protestant University of Applied Sciences Darmstadt